Information Relevant to Fgura Scout Group Contingent Members Only
--------- O ---------
About the Haarlem Jamborette
 The Haarlem Jamborette was organised for the first time in 1979 and is organised every four years to coincide with the International Scout Jamboree.This year it is expected that there will be over 3000 camp participants from over 18 countries.  
The camp will last 10 days (we will be arriving one day before and leaving a day after) and will be held at the
Recreatiegebied
Spaarnwoude
 

(

Spaarnwoude

Recreational Area), a nature reserve located between Amsterdam, Haarlem and

Velsen

. This reserve has many hiking routes, a mountain bike track, swimming lakes and even a ski slope and a climbing wall. In addition, big events are held in the reserve every year, and in 2019 the Jamborette will be one of them.
This year the camp will be given a "Steampunk" theme with the title "Jamborette in Motion – Gear Up for Adventure" and the camp will be sub-divided into "sub-camps" called Rusty Railroad, Yellost In Time, Green Recycling Yard  as well as Orange Aviation Field which will be our group's sub-camp.
--------- O ---------
Camp Fee and What's Included
 The full camp fee for this event is €700 which has been collected from each participant in four instalments of €100, €250, €200 and €150 respectively.
This fee covers the following expenses:
Jamborette

participation fee

inc.

excursions and all camp activities

3 Meals per day

Camping fee

Flights to/from Amsterdam Schiphol airport with

AirMalta

Transfers to/from Schiphol Airport and the Campsite

Travel Insurance

Commemorative items – badges, scarf, mug, water bottle, etc

..

Rental of equipment

Shipping of group equipment

Taxes
What's NOT Included?
Although the camp fee covers all the costs for essential items required to participate in the Jamborette, it does not cover any of the following:
--------- O ---------
Frequently Asked Questions
All participants are to get their normal camping gear including the Uniform Shirt, group scarf and the branded group activity wear (i.e. Blue T-Shirt, Hoody and Cap).  Keep in mind that although it is going to be summer, in Haarlem it can still get cold in the evenings (around 12oC) while it can get quite warm during the day (around 20oC).  Also expect windy and rainy weather!  With your packing list make sure you include some extra Maltese scouting souvenirs for exchange (Such as badges, scarves, T-shirts, etc..).  We will not accept anybody removing badges or any other item from their official uniform for exchange! 
Make sure you do not carry too many expensive items (such as mobiles, mp3 players, cameras, etc…) as these items might be cumbersome to carry around and our tents will be unattended for most of the time.  The group will not take responsibility for any personal property that is lost, stolen or damaged during the trip.
What are the luggage restrictions and recommendations for Air Malta?
It is important that all your belongings are packed in a single luggage item (preferably a rucksack) strictly not exceeding 20kg. 
You are also allowed 1 piece of hand luggage (click here for hand-luggage restrictions) not exceeding 10kg. Make sure that this is a comfortable backpack so that you can use it to carry your stuff around with you for the camp activities.
Please be prepared to walk with the rucksack and backpack up to the campsite and in the rain (expect an approx. 30mins walk).  So make sure rain covers and raincoats are readily accessible.
How much pocket money should I bring?
Although the official currency in the Netherlands is the Euro, the camp site will use its own currency called the Jambo.  These are plastic coins in a variety of designs that can be used to pay for anything that you may want to buy during the Jamborette.  There will be a Jambo bank at the campsite to exchange our Euros into Jambos. 
There will be a Jambo Shop at the campsite which will sell souvenirs, consumables and emergency camping supplies.  The Jambo Shop will accept both Jambo and Euro currencies.
You can bring as much pocket money as you are ready to spend however please do not bring any more than €170 each.  We recommend that you budget approx.. €10-€12 per day (i.e. a total of €100-€120) for some souvenirs and snacks.  That way you should have sufficient pocket money for the whole camp.
Pocket money will be collected by the group leaders prior to the camp and it will be held by the leaders for the duration of the camp for safe keeping.  Every morning you can ask your leaders to "withdraw" as much pocket money as you need.  You will be given a balance-sheet where you can keep track of what you're spending and how much pocket money you have left.
Will I be able to call / chat with my family back home?
The campsite will be equipped with an Internet Café – so participants can contact their friends and families by using Skype or other instant messaging services.  Please consider that these facilities might be over-crowded, making it difficult to contact home frequently.  As a general rule parents should rest assured that "no news is good news".  On the other hand we will try our best to keep our Facebook page up to date with the latest news and photos.
Is it possible to charge my mobile's battery?
We cannot guarantee a power connection at any time – and please keep in mind that we'll be camping in what is essentially a very large field in the middle of a nature park.  If really necessary, it would be wise to get an extra charged battery with you or a pre-charged portable mobile charger.
How much does it cost to use my mobile phone in the Netherlands?
According to the latest EU-wide regulations, there will be no difference in call/data charges when roaming to a country within the EU.  However some restrictions may apply depending on the operator.  If you intend to use your phone during the Jamborette we strongly recommend that you contact your mobile service provider in advance to confirm that EU Roaming is enabled and to ensure that no additional charges/restrictions apply to your plan.
--------- O ---------
Full Jamborette Programme
Every day will have a different theme and activities to go with it, organised by these teams: Aqua, Trail, Hikes, Sports, Arts & Crafts and Jambo-Tours.
Aqua will take everyone away from the campsite for some fun on the water, for example a nice boat trip, sailing or canoeing. 
Trail will organise proper scout and outdoor activities on and around the campsite. Do you dare to go on the high zipwire?
With Sports you will be active (or perhaps not so active) on the sports field. 
Hikes will take you to see a bit more of the area, and so will Jambo-Tours when they take you on a cultural trip.
You will be able to use all your creative talent during the Arts & Crafts and Technology activities, where you will build things or get active with drama or dancing.
In addition to the set programme during the day, there will also be several drop-in activities during the day and in the evening, including surfing the Internet in the Internet café, helping out with Jamborette's own radio show at Jamboradio and the famous Frisbee Tournaments that have become a traditional part of the Jamborette.
Day 1 – Sat 27th July:
0510hrs:

           

Meet at Malta International Airport departures lounge

0540hrs:

          

Baggage check-in

0650hrs:

           

Board the plane

0720hrs:

          

Take-Off!!

1040hrs:

           

Arrive at Amsterdam, Schiphol Airport

1100hrs:

           

Baggage Reclaim

1115hrs:

           

Take coach to Recreatiegebied

Spaarnwoude

campsite
1215hrs:

           

Arrive at Campsite and start pitching tents!
Day 2 – Sun 28th July
All Day:

            

Camp-Opening
Day 3 – Mon 29th July
All day:

Sports

Keep On Rollin'

Team Up!

Challenge Yourself!

Evening:

Free
Day 4 – Tue 30th July
All Day:

Big Excursion 

Evening:

Free
Day 5 – Wed 31st July
All Day:

Arts & Crafts

Evening:

Campfire (by subcamp)
Day 6 – Thur 1st August
All Day:

Jambo

Tours

Utrecht + Railway Museum

National Military Museum

Steam Machine Museum (Medemblik)

Evening:

Free
Day 7 – Fri 2nd August
All Day:

Trail

Under Pressure

Post-Apocalyptica

High Gear Island

Mad Max Motion Race
Day 8 – Sat 3rd August
All Day:

Free

Evening:

Disco
Day 9 – Sun 4th August
All Day:

Reflection / Open Day

Evening:

Frisbee Final
Day 10 – Mon 5th August
All Day:

Aqua

Sailing

Supping

Canoeing

DIY Rafts

Beurtvaart

Beach Games

Evening:

Free
Day 11 – Tue 6th August
All Day:

Hikes 

The Punisher (30 - 40Km)

The Escape Hike (5 - 20Km)

City Hike (8Km)

Evening:

Closing Ceremony
Day 12 – Wed 7th August:
0630hrs:

           

Dismantling of tents & packing

0830hrs:

          

Take coach to Amsterdam Schiphol Airport

0930hrs:

           

Baggage Check-In

1130hrs:

          

Board the Plane

1150hrs:

           

Take Off

1450hrs:

           

Land at Malta International Airport

1500hrs:

           

Baggage Reclaim

1540hrs:

           

Head back home for a

looooong

sleep!
--------- O ---------
Tentage
Allocation
We'll tell you about this later on…. Sit tight!
--------- O ---------
Patrols Allocation
 We'll be dividing ourselves into four patrols with cool Steampunk names and each patrol will be assigned two leaders.
 We will be divided in these patrols mainly for camp duties and in some other situations where it would be easier to work by patrols.
Clockwork Patrol

Leaders: James Baldacchino & Maria Schembri

Rivets Patrol

Leaders: Joanne Pisani & Isabelle Camilleri

Locomotive Patrol

Leaders: Gail Spiteri & Helen Demanuele

Raygun

Patrol

Leaders: Liana Buhagiar & Glenn J Galea
We'll be letting you know which patrol you'll be in during one of our meetings.
--------- O ---------
Personal Equipment Recommendations
Sleeping Bags
The ideal sleeping bag is a three-season sleeping bag with a temperature/comfort rating of around 1 to 8 degrees Celsius.  However for a Maltese climate a two-season sleeping bag is generally sufficient and has the added advantage of being lighter and more compact.
A good three-season bag should see you through a chilly evening in spring and not overheat you during a warm night.
Mummy-shaped bags are more efficient at keeping the body warm. However, some people find them constricting.
Waterproof Jackets
Waterproof jackets tend to be differentiated by a number of features:
·       High collar – to protect from wind-chill
·       Taped seams – To prevent water ingress
·        Dropped tail – to prevent trousers getting wet
·  Under arm zips – to increase ventilation and breathability
·        Pockets – to stash your essentials.
·     Hoods –  Important to keep your hair and head dry.  Some jackets also come with peaked hoods which help improve visibility.
Haversacks / Rucksacks
Support: An aluminum or HDPE (high-density polyethylene) frame sheet for load support, used to transfer the weight of the load to your hip belt.
Suspension system: This refers to the load-supporting system of shoulder straps, Packs offer either Adjustable or Fixed Suspension. Adjustable Suspension allows you to fine-tune the fit of your pack to match your torso size.
Ventilation:    Internal-frame backpacks hold the pack close to your body, restricting air flow and allowing sweat build-up on your back.  External-frames allow more air flow but can be more cumbersome and heavy.
Packbag: The materials used in packbags seek to find a balance between durability and weight.
Top lid: This top pocket offers extended capacity
Hip belt: When evaluating hip belts, consider their comfort and adjustability.
Other load-bearing straps: Most packs help keep the load close to your body by using load-lifter straps. These are located just below the tops of your shoulders
Attachment points: These allow you to attach gear to the outside of your pack if you have the need.
Rain covers: Backpack interiors are waterproof treated, yet during a rainstorm water can still get through seems and zippers. You may simply use a trash bag, but many packs have a rain cover to shelter your pack from bad weather.
More Info: If you want some more help choosing a rucksack, check out this fantastic guide here.
Hiking Shoes/Boots
Ensuring a good fit is the key part of the boot-selection process.
Light hiking shoes: Resembling burly running shoes, low-cut models with flexible midsoles are excellent for day hiking.
Hiking boots: These mid- or high-cut models are intended for day hikes or weekend backpacking trips with light loads. They often flex easily and require little break-in time, but they lack the support and durability of stout backpacking boots.
Backpacking boots: These mare designed to carry heavier loads on multiday trips deep into the back-country. Durable and supportive, with stiffer midsoles than lighter footwear, they are suitable for on- or off-trail travel.
Hiking Socks
Whichever boots or shoes you're wearing, your feet will inevitably take a bit of a pounding on a long hike or climb, and cushioned walking socks are designed to give extra protection to those areas that take the most punishment.
Look for socks with extra padding around the heel and ball of the foot.  Hiking socks are designed to keep your feet warm or cool, so make sure to choose the socks which are best suited to the climate you'll be walking in.
Mess Kits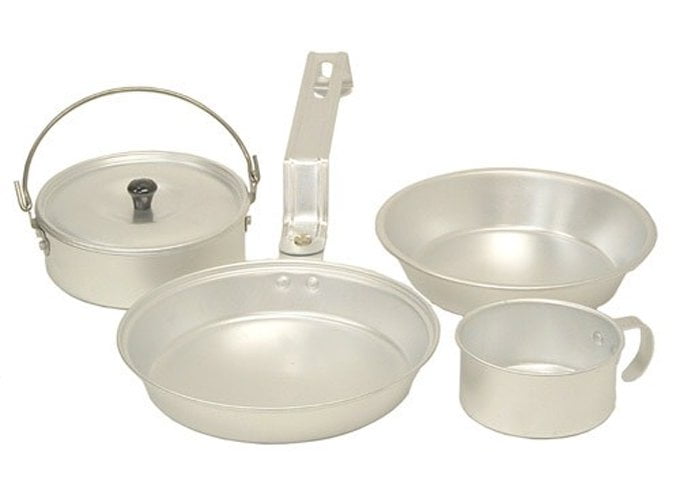 A mess kit is a set of personal eating and cooking equipment that's portable enough for camping. Often, the pieces (a cook pot, bowl, cup, etc.) nest together in a compact package that fits easily inside a backpack.
These packages are generally lighter weight and more affordable than buying each piece individually. Mess Kits materials can vary from plastic to stainless steel and aluminum, depending on what your outdoor needs are.
Sleeping Mats
Sleeping mats provide two vital benefits: cushioning and insulation. Cushioning might seem like a pad's most useful function, but often more important is its ability to insulate your body from cold surfaces.
Foam Mats
These basic backpacking pads feature dense foam filled with tiny closed air cells.
Pros: They're lightweight, inexpensive, durable and offer excellent insulation. Plus, they won't absorb water.
Cons: They can be less comfortable. They're relatively stiff and firm, so they tend to be bulky.
Self-Inflating Mats
Self-inflating mats offer a combination of open-cell foam insulation and air. Open the mat's valve and air fills the vacuum automatically.
Pros: They're comfortable and compact, they offer excellent insulation and you can adjust their firmness.
Cons: They're heavier than simple foam pads and more expensive. They can be punctured or ripped, though field repairs are not difficult.
--------- O ---------
Personal Camp List
All items should be packed inside a suitable ruck-sack and back pack.

 
The ruck-sack will be checked in as baggage while the back-pack will be used as carry-on hand-luggage.

 
The total weight of the packed ruck-sack should be around 15kgs and should NOT exceed 20kgs under any circumstance.
The weight of the back-pack should not exceed 10kgs and should fit within a box of 20cm x 40cm x 55cm.
Items marked with a * must be packed in the checked-in luggage and may not be carried in the back-pack.
What to wear & bring to the airport:
Blue jeans
Uniform khaki shirt
Group Scarf with Jamborette event badge
Hiking boots / Hiking shoes (ideally waterproof) - make sure these are properly broken-in and not brand new
Waterproof jacket and fleece (to be carried by hand or in the hand luggage)
Packed lunch (no drinks) - we will eat this as soon as we land in the Netherlands.  Drinks can be purchased from the airport.
Cheap wrist-watch
Filled-In and Signed Health Form
Sleeping:
Sleeping bag (preferably lightweight and compact to fit in the rucksack)
Mat (foam / inflatable / self-inflating)
Small/inflatable pillow (optional) 
TIP: Scouts normally stuff a soft sweatshirt or hoodie into their sleeping bag's carry case to make a super-comfy pillow without carrying any extra weight.
TIP: Try to avoid having items hanging on the outside of the ruck-sack as much as possible as they tend to get damaged or lost while in transit
Shoes:
Small waterproof wellies (only in case your hiking shoes are not waterproof)
Slippers (optional)
Sandals/Crocs/Neoprene water shoes (for shower time and water activities)
Clothes
Good Waterproof Rain Coat (you'll be carrying this by hand or in your hand luggage to the airport)
Waterproof trousers (optional)
4/5 T shirts (including at least one group activity shirt)
1 or 2 long sleeved hoodies or zip ups (including at least one group hoodie)
2 long pants  (Ideally camping/trekking cargo pants – these usually have zips in the legs so they can be converted to shorts)
1 pair of shorts (if you do not have convertible trousers)
1 warm fleece jacket (it won't be too cold - the idea is that you can wear this fleece jacket over your hoody and t-shirt to keep warm) - (you'll be carrying this by hand or in your hand luggage to the airport)
5 / 6 pairs of socks (including at least two pairs of suitable hiking socks)
Beanie (Optional)
Light Buff/Scarf (Optional)
Group cap or cowboy hat
5 pairs of Underwear
Swimsuit / Swimming trunks
Sleepwear (t-shirt and pants) - optional 
Cheap waterproof wrist-watch  
TIP: Layering is the key-word here!  The weather will change from being warm and dry to cold and wet throughout the day and the evenings will be a bit cooler.  It won't be too cold - so no need for large heavy jackets.  Plan to have a good number of light T-shirts which you will wear every day.  When/If it gets colder you can wear a hoodie/sweatshirt on top and if gets even colder you can wear a fleece or zip-up sweatshirt over everything.  If it starts raining just put on your raincoat.
 TIP:  The colour of our sub-camp will be ORANGE so, if you've got any orange T-Shirts, sunglasses, scarves, gloves, etcc... bring them along.  The more orange we are, the better.  We'll be providing you with an orange hat ourselves ;)
Toiletries:
1 Roll Toilet paper
1 small packet of wipes
1 Body Wash/Shower Gel  (in a small bottle) *
1 Hair conditioner and shampoo (in small bottles) *
2 towels (preferably microfiber) - one full-size and one medium-size
Facecloth
Toothbrush
Toothpaste *
Small mirror (optional)
TIP: You may remove the cardboard roll from the middle of the toilet roll (yes it can be done!).  This makes the toilet roll smaller and easier to pack in your bag.
TIP: Buy small travel-sized plastic liquid containers (Available on sale from convenience stores or from the airport) and fill them up with shower gel, shampoo etc…  No need to bring a full large bottle of shampoo with you for a 10-day camp!
TIP: Shower Gel that can also be used as shampoo is a great space-saver and helps you travel light!
TIP:  A foldable toothbrush will help make sure the bristles are kept intact throughout the camp and it also takes up less space!
Cutlery:
Fork, knife and spoon  *
Plate and bowl or mess-tin
Mug
Dishcloth
TIP: Plastic mugs, plates and cutlery are cheap, durable and lightweight and are ideal for an overseas camping trip
Others:
Small, Personal first aid kit (NO MEDICINES!)*
Badges/Shirts/Scarves for exchanging with other scouts (optional)
Maltese flag pin badges (we prepared these in advance during a special meeting)
Small Torch and extra batteries 
Notebook and biro
Insect repellent (wipes are preferable) *
Sunblock *
Sunglasses (optional)
1

Empty

Water Bottle
8 - 10 x Clothes pegs
Travel wash (this is a concentrated washing detergent that comes in small squeeze tube -available from most supermarkets or detergent/toiletries shops) *
Small Sewing kit + safety pins (for emergencies) *
Rain cover for rucksack (This usually comes with the ruck-sack, if not, make sure you have a garbage bag large enough to cover your ruck-sack)
Garbage bags (No need for a full roll - just 2 or 3 are enough)
Camera + Spare batteries (optional)
Participant Handbook 
Pen knife / Multitool (optional)*
Note: (Only those scouts who have successfully passed their knife & axe session and test - part of the Troop's Pathfinder or Cook Mastery badge -  may bring this with them.  Blade must be shorter than the breadth of your palm. Any pen-knives or multi-tools are allowed on condition that they are strictly kept packed inside the tent at all times except when expressly required)
Hand luggage:
The hand luggage will be a small back pack which we will also be used for every-day activities, so make sure it's comfortable to carry on your back for long periods!
It is recommended that you pack one extra outfit in the hand luggage which includes 1 shirt, 1 pair of trousers and a pair of socks and underwear. This is just in case your luggage goes missing at the airport or we get caught in a rain-storm and need a quick change.
 Personal Medicine & Health Form:
Any medicine that needs to be taken by the participants must be brought to the attention of the leaders and listed in the member's health form.  Keep in mind that any liquid medicine needs to be held in the check-in luggage and may not be carried in the hand-luggage.  If it is absolutely necessary to carry liquid medication in the hand-luggage (eg. Inhalers), please inform the leaders upon arrival at the airport.
 --------- O --------- 
Interesting Links
More information about things to do in Spaarnwoude Recreational Area can be found here:
Other interesting links can be found here:
---
Fri 1st Dec 1730-1800 Troop - Stores- Equipment collection for PLs only @Stores
Fri 1st Dec 1800-2100 Troop - Backwoods Cooking + LB @Polverista
Sat 2nd Dec 0800-1200 Group - Place Making Session @Activity Centre, Fgura
Sat 2nd Dec 0900-1330 Troop - Group Activity with Project Green @Triq Carapecchia
Sat 2nd Dec 0900-1330 Crew - Group Activity with Project Green @Triq Carapecchia
Sat 2nd Dec 0900-1330 Pack - Group Activity with Project Green + LB @Triq Carapecchia